KS20-FSB-P-CC4 - Castell Safety International Ltd - Castell Locks
Pricing:

For Price Please ask for quote.


Email: info@leiindias.com

Ship From: Pune, India
MPN: KS20-FSB-P-CC4
Castell Locks Delivery : 10-15 Business Days
Product Specification
Contacts number
4 = standard contacts number
Product
Castell Trapped Key Interlock
Product Type
Powersafe Electrical Switch
Lock portion type
FS (Also Available in Q style. Please see attached image 2)
Mounting
P = Back of board mount, without enclosure
Isolation
20 amps (UL:20A/CSA:16A). Also available in 32 amps (UL&CSA:30A) & 63 amps (UL&CSA:65A)
Material
Brass (Also Available in Stainless Steel)
Contacts Arrangement in Normal Position
CC = NC arrangement (all contacts closed)
Symbols/Engraving
FS up to 3 digits / Q up to 6 digits
Product Datasheet
1
KS20-FSB-F-CC4
2
KS20-FSB-F-CC4
| | |
| --- | --- |
| | LEI Indias is an Authorised Distributor of Castell Locks by Castell Safety International. |
Application :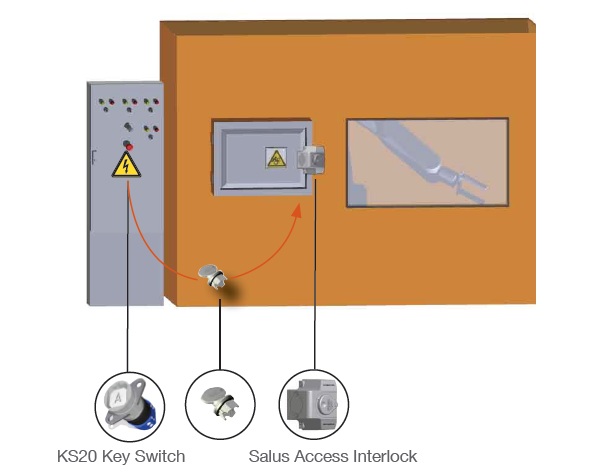 A typical application of Castell Key KS20 Switch (model : KS20-FSB-P-CC4) is machine guarding. It is usually used in combination with an Access Interlock such as the Salus for part body access or an Access Interlock with an exchange key for full body access control.
The Castell Key KS20-FSS Switch breaks the machine safety circuit, ensuring a machine is shut down when the key is turned and removed.
The key can then be taken to the Salus Automatic Access Interlock to enable access to the machine.
The machine cannot be restarted until the door is closed, the bolt is trapped in the Access Interlock and the key is removed and taken to the Castell KS Key Switch.

Tags: Castell Trapped Key Interlocks, Castell Safety Interlocks, Castell Key Machine Guarding Interlock, Castell Key Switch
Related Products