ABB Jokab Safety dealers and distributors Pune | LEI INDIA
Explore ABB Jokab Safety Products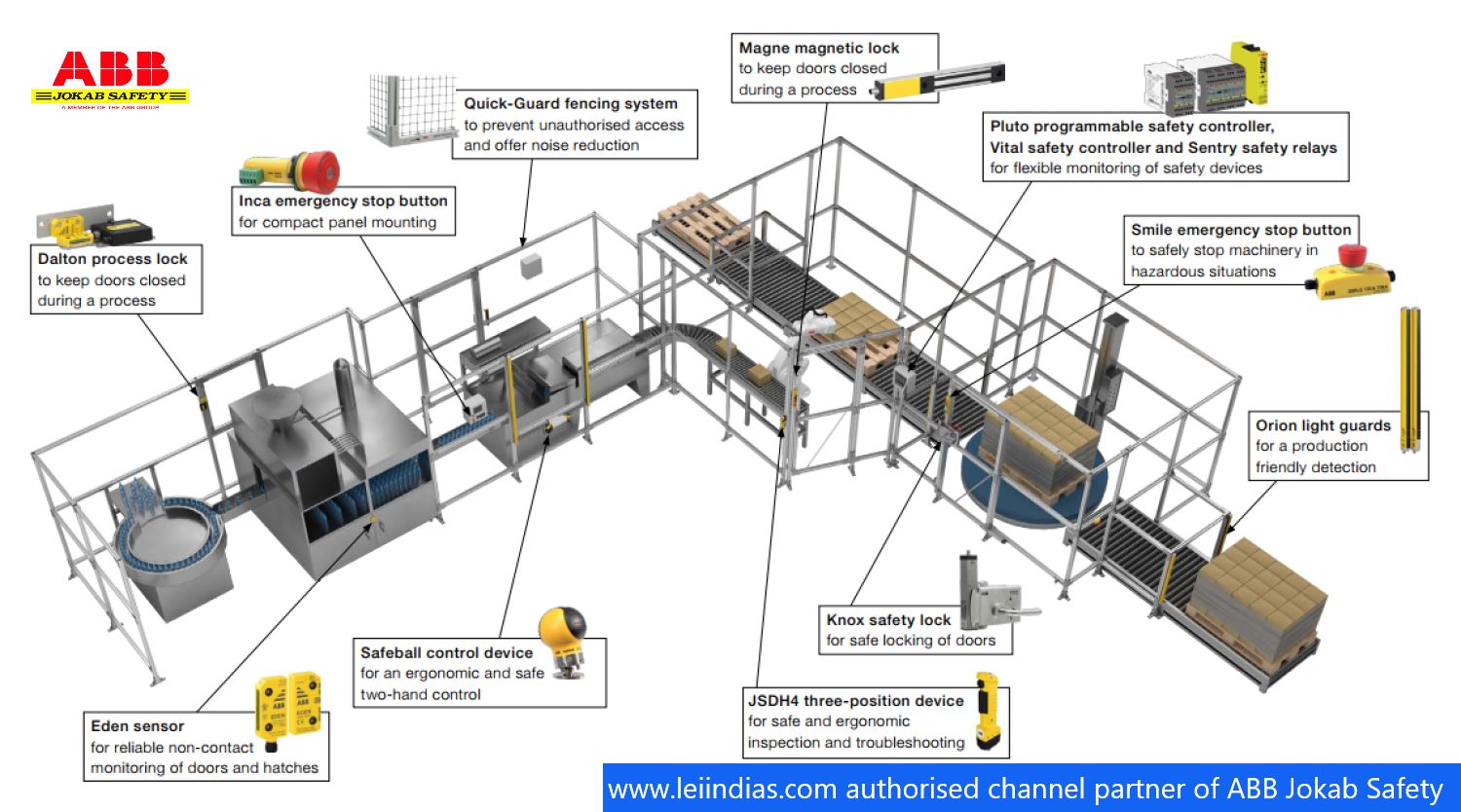 Premium and Intelligent Machine Safety Solutions from ABB Jokab Safety!
ABB Jokab Safety products ensure safety to the people working in hazardous areas and working with dangerous machinery.
LEI INDIAS are the authorised channel partners of ABB Jokab Safety Solutions.
ABB Jokab Safety products support the risk assessment with respect to machinery, processes, operations and machines is done considering severity, frequency and possibility of accidents.
ABB Jokab safety products conform to the safety legislations of each countries. Such as CE Mark, UL/ CSA Mark, S-Mark for Korea, GOST for Russia.
It is always easier to build safety and protection systems with ABB's complete range of Jokab Safety solution.
ABB Jokab Safety product range includes Programmable safety controllers, Safety Relays, Optical Safety devices such as Light Curtain, Light beams, Non Contact Safety Sensors, Magnetic non-contact safety sensors, Safety Switches, interlocking devices, coded magnet or RFID proximity switches, Non coded proximity switches, Electromagnetic process lock, Electromechanical process lock, mechanical safety lock, pilot devices like Safeball, emergency stops, EStrong, Linestrong, Safety matts, safety bumpers, safety edges, safety contactors, electronic compact starters etc.
ABB Jokab Safety brands include EDEN Non contact Safety Sensors, Safeball pilot device, Gkey safety lock, LineStrong pull wire emergency stop switch, JSDH4 three position device, Pluto programmable safety controller, Vital safety controller, Sentry Safety relay, Smile emergency stop button, Orion light guards, Mkey9 Switch, INCA emergency stop button, Quick Guard fencing system, Magne magnetic lock, Safety control modules, Sense Magnetic non contact safety sensor, MKey mechanical key switch, Dalton Electromechanical process lock, JSTD25-two hand station, JSFD4-Three position, EStrong-Emergency stop, AF-Safety contactors, HF-Electronic compact starters.
ABB Jokab Safety solutions are found in Automotive Industry, Pharmaceutical Industry, Steel Industry, Mining equipment, Hazardous areas. Everywhere and anywhere you need!