DAE-FSB-30 - Castell Safety International Ltd - Castell Safety International Ltd
Castell Locks Delivery : 10-15 Business Days

Contact: +91 7410-095600
Product Specification
Product
Castell Trapped Key Interlock
Product Type
Mechanical Time Delay Unit
Manufacturer
Castell Safety International
Material
Brass
Time delay
30 Minute Max
Lock portion symbol Bottom Key Symbol
FS up to 3 digits / Q up to 6 digits
Lock portion symbol Top Key Symbol
FS up to 3 digits / Q up to 6 digits
Product Datasheet
1
DAE-FSB-30
| | |
| --- | --- |
| | LEI Indias is an Authorised Distributor of Castell Safety International Ltd |
Application: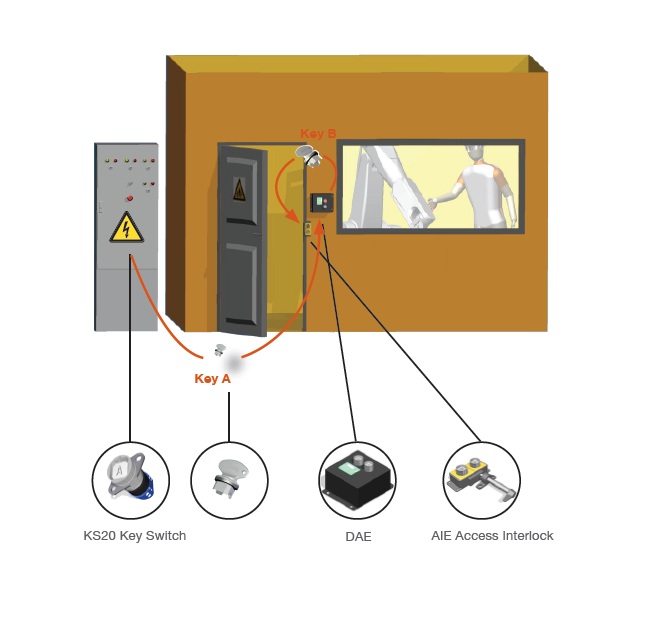 Castell trapped Key Interlock DAE ( DAE-FSB-30 ) which is a mechanical time delay unit is designed to operate as a part of an integrated safety system that controls access to hazardous areas.
The release of the isolation key (key A) from a key switch, e. g. KS20, unterrupts the electrical supply to the machine.
Key A is then placed in the DAE time delay unit (DAEFSB30) and turned, initiating the timer. After completion of the time out period key B can be released (the time delay must be longer than the machine run-down time).
Key B can then be taken to the AIE acess interlock and the door to the machine room can be opened.
Tags: Castell Trapped Key Interlocks, Castell Safety Interlocks, Castell, Time Delay Unit
Related Products
Rating :
5
stars
(based on
1
ratings)
Customer Review : Excellent Service