K-FSB-6.4-4 - Castell Safety International Ltd - Castell Safety k-fsb Bolt Interlocks
Ship From: Pune, India
MPN: K-FSB-6.4-4
Castell Locks Delivery : 10-15 Business Days

Contact: +91 7410-095600
Click and move mouse right or left.
Click and move mouse right or left.
Product Specification
Product
Castell Trapped Key Interlock
Product Type
Mechanical Bolt Interlock
Manufacturer
Castell Safety International
Lock portion type
FS (Also Available in Q style. Please see attached image 2)
L Retracted Bolt Length
6.4 mm
Symbols/Engraving
FS up to 3 digits / Q up to 6 digits
Form
4 (Please see attached image 3)
| | |
| --- | --- |
| | LEI Indias is an Authorised Distributor of Castell Safety International Ltd |
Application K-FSB-6.4-4 ( K-FSB644 ) Castell Lock :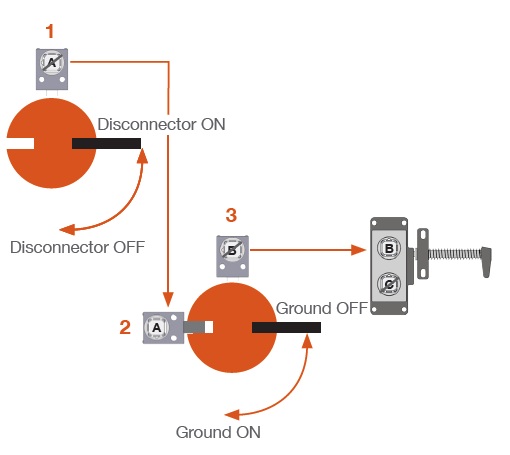 The Castell Trapped Key Interlocks K K-FSB-6.4-4 Castell Lock ( KFSB644 ) are used as a part of a safety system to allow safe control of valves or disconnect switches.
While power supply to the system is switched on, the access doors to the hazardous area are locked closed.
Key A is trapped in the disconnector K bolt interlock (1) while the process is on.
To enter the hazardous area, the disconnector is turned to the off position and key A is released, locking the disconnector in the disengaged position.
Key A is then taken to the grounding switch. Key A enters the second K lock (2) which retracts the bolt enabling the cammed switch lever to be rotated to engage the ground. Once rotated, the recess in the cam aligns with the next K lock (3) with key B trapped in its lock. Key B can now be removed from K lock (3), which now locks the lever in place ensuring that the ground connection cannot be broken.
The system is now disconnected and grounded, key B can be taken to operate the access interlock on the door of the hazardous area to gain access into it.
Tags: Castell Trapped Key Interlocks, Castell Safety Interlocks, Castell, Bolt Interlocks, Switchgear Iinterlock, castell locks
Related Products
Rating :
5
stars
(based on
1
ratings)
Customer Review : Excellent Service