KL-FSB-1S-6.4-1-D - Castell Safety International Ltd - Castell Key Interlock Switchgear
Ship From: Pune, India
MPN: KL-FSB-1S-6.4-1-D
Castell Locks Delivery : 10-15 Business Days

Contact: +91 7410-095600
Product Specification
Product
Castell Trapped Key Interlock
Product Type
Dual Key Bolt Interlock
Lock portion type
FS (Also Available in Q style. Please see attached image 2)
Key Condition
D = double key condition
L Retracted Bolt Length
6.4 mm
Extended bolt length
25.40 mm
Secondary lock portions
1S = 1 secondary key (2 locks)
Form
1
Lock Portion Symbol (Primary Key )
FS up to 3 digits / Q up to 6 digits
Lock Portion Symbol (Secondary Key )
FS up to 3 digits / Q up to 6 digits
Product Datasheet
1
KL-FSB-1S-12.7-1-D
2
KL-FSB-1S-12.7-1-D
| | |
| --- | --- |
| | LEI Indias is an Authorised Distributor of Castell Safety International Ltd |
Application: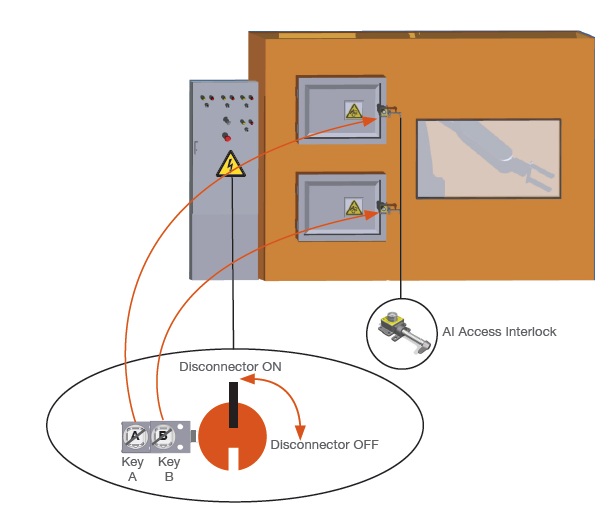 The Castell Trapped Key Interlock KL are used as a part of a safety system. A typical application is where the electrical and pneumatic supplies to the machine are switched on and the access doors to the hazardous area are locked closed.
Key A and B are trapped in the KL bolt interlock, preventing acces to the machine area. To enter the area, the pneumatic supply must be turned off. Turning the keys in the KL bolt interlock will extend its bolt. The released keys ensure the bolt remains in extended position locking off the disconnector.
The released keys can now be taken to the machine area to gain acces via the AI acces interlocks.
The disconenctor cannot be switched on until both access doors are locked closed and both keys replaced in the KL bolt interlock.
Tags: Castell Trapped Key Interlocks, Castell Safety Interlocks, Castell, Bolt Interlocks, Switchgear Interlock
Related Products
Rating :
5
stars
(based on
1
ratings)
Customer Review : Excellent Service