Ossi Connectors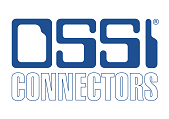 OSSI Connectors are leading manufacturers of D-Sub connectors.
Ossi Connectors A/S is a leading supplier of interconnection solutions for Datacom, Telecom, Medical, Industrial Automation, Military and Railway Applications. With vast experience Ossi Connectors provide standard components and unique custom designed solutions.
At 2.500 m² plant in Maribo, Denmark Ossi Connectors provide:
Research & Development
CAD/CAM design by SolidWorks®
Production of tools and prototypes
Assembly of standard and custom designed products
Logistics and quality control
Moulding department
Stamping department
Turning and milling department
All Ossi Connectors products* comply with 2002/96/EU (WEEE), 2002/95/EU (RoHS), 2011/65/EU (RoHS-2), 2015/863/EU (RoHS-3) and 2006/1907/EU (REACH).* Except Cadmium plated products.
LEI Indias also offer wire harness and cable assemblies with OSSI - D-Sub connectors.

Explore Ossi Connectors Products