X-FSB-H-1/3 - Castell Safety International Ltd - Interlocks (Castell Locks)
Castell Locks Delivery : 10-15 Business Days

Contact: +91 7410-095600
Click and move mouse right or left.
Click and move mouse right or left.
Product Specification
Product
Key Exchange Box-X Type
Manufacturer
Castell Safety International
Lock portion type
FS (Also Available in Q style. See attached Picture 2)
Mounting
H=Horizontal (Vertical Mounting also available)
Material
Brass (Also Available in Stainless Steel)
Number of free keys (keys in)
1
Number of trapped keys (keys out)
3
Lock portion symbol free keys
FS up to 3 digits / Q up to 6 digits
Lock portion symbol trapped keys
FS up to 3 digits / Q up to 6 digits
| | |
| --- | --- |
| | LEI Indias is an Authorised Distributor of Castell Safety International Ltd |
Application: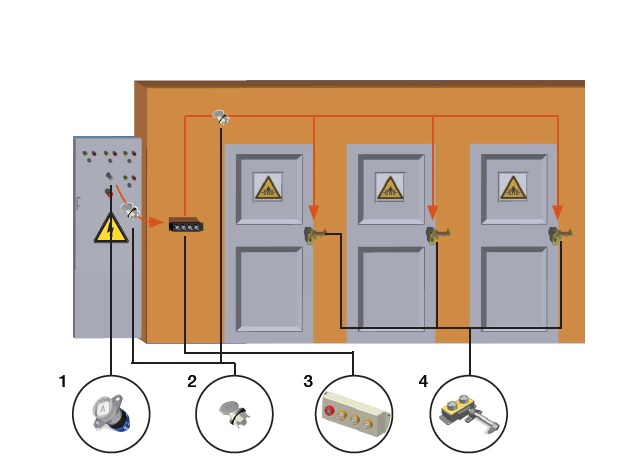 A typical application of the X key exchange box is machine guarding with one or more access points to the hazardous area. The key exchange box is used as a part of a safety system, which ensures a machine is shut down, before access to the hazardous area is allowed. The system involves a KS key switch for the electrical supply and typically more than one AIE access interlocks for full body access.
The removal of the isolation key from the key switch isolates the electrical supply to the machine. This key is taken to the X key exchange box to release the trapped keys. The released keys are used to gain access through the AIE door interlocks.
The machine cannot be restarted until all keys are returned to the key exchange box and the power isolation key is removed and taken to the KS key switch.
Tags: Castell, Key Exchange Box
Related Products
Rating :
5
stars
(based on
1
ratings)
Customer Review : Excellent Service