Castell Safety International Ltd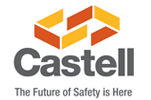 Castell Safety International has been at the forefront of trapped key interlocking since 1922 when our founder, James Harry Castell, designed the first interlocking systems to protect the people and assets during the electrification of London.
From power generation & distribution, heavy plant works to loading bays and many industries in between, Castell Safety International believe that everyone has the right to be safe at work.
Castell Safety International provide a range of safety components working in synergy to build a solution of trapped key interlocking to suit virtually any application. This enforces the operator to follow a safe procedure or process every time, safeguarding your people and assets.
Explore Castell Safety International Products : Click Here