Kirk Key Interlock Company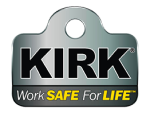 KIRK manufactures more than 70,000 safety components each year for use in a wide range of industries, guaranteeing a sequential pattern of safe operations for isolating energy and safely accessing hazardous areas. KIRK safety products are designed and configured to each user's requirements, providing protection from each application and peace of mind for our customers.
KIRK KEY educate customers, design firms, and OEMs on the benefits of our safety systems and work with industrial and safety associations to standardize the use of these systems.
KIRK KEY products include mechanical interlocks, electro-mechanical interlocks, solenoid key release units, time delay key release units, transfer panels, and smart technology. Proper application of KIRK KEY safety interlock systems guarantees that a sequential pattern is followed for each step of a prescribed sequence.