1. MKey9 : ABB Jokab Safety magnetic switch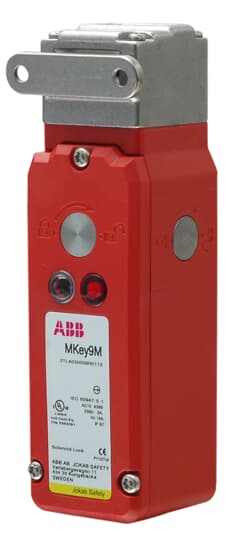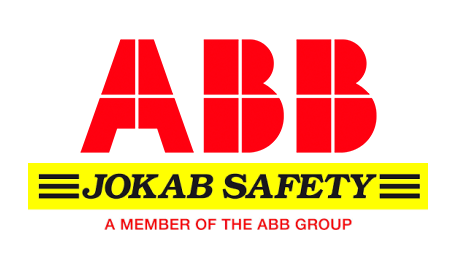 ABB Jokab MKey9 Magnetic Switch is now available with LEI INDIAS.
LEI INDIAS are the authorised channel partners of ABB Jokab and offers all varieties of ABB Jokab products.
It is compact and robust with 8 actuating positions. It has high holding force up to PL e/Cat.4 with LED status indication
Applications:
- Gates
- Hatches
Approvals :
- CE
- TUV
- UL
Switch operational description
The MKey9 interlock safety switches are design to provide position interlock detection and locking for moving guards. They are designed to fit the leading edge of sliding, hinged or lift off machine guards. The actuator is fitted to the moving part of the guard and is aligned to the switch entry aperture. The possibility to lock the switch in the protective position prevents unwanted access to machinery until dangerous operations have ceased.
This product is highly advisable to use for the processes which cannot be interrupted, such as welding, machinery with a long stopping procedure, such as paper machinery, that requires a long braking operation, prevention of unauthorised access to a particular area.
The head can be set in four positions, thus providing the safety device with eight different operating positions. The leading edges of the actuator key are reinforced and beveled in order to guide it properly into the hole. The safety switch is design to have a high holding force of 2000N. MKey9 has several types of actuators as an option. A standard actuator key is always delivered with interlock switches.
For any technical and commercial assistance regarding ABB Mkey9 switches please contact - [email protected] and [email protected]
The MKey9 is available in two basic versions, either with a spring lock or an electromagnetic lock. In the spring lock version, the locking mechanism moves into the locked position directly when the door is closed and the actuator key is pushed into the switch. The actuator key can only be released and the gate opened by supplying operational voltage to the solenoid (A1-A2). MKey9M is the electro-magnetic lock version, the locking mechanism is in the locked position when the solenoid (A1-A2) is supplied with operating voltage. Release of the actuator key is only possible when the operating voltage is removed from the solenoid (A1-A2). The solenoid voltage is 24VDC.
Material : The MKey9 is made in a rugged polyester housing with a stainless steel head which give the switch a rating of IP67
Product codes:
1. MKey9- 24VDC
2. MKey9M- 24VDC (power to lock)
For any further information regarding Mkey9 or other ABB Jokab Safety products please contact LEI Indias @ +91 7410095600
LEI INDIAS are your ultimate safety partner for all your plant and machine safety related products.